Crowns and Bridges at K&R Dental
If you have teeth that are missing or have been damaged, you know that it affects your life and your self-confidence. At K&R Dental, we offer high-quality dental bridges and dental crowns so that you can smile, speak and eat as you wish. Our restorations will feel and look just like a natural tooth, and are long-lasting and comfortable.
Crowns for a Single Tooth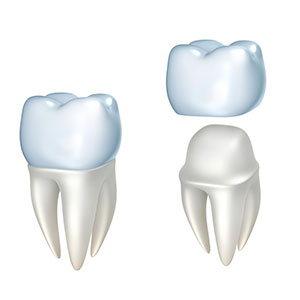 Teeth can be damaged by decay, trauma or simply from the ageing process. You may also have a large filling that needs to be replaced. In these cases, a dental crown may be the most appropriate form of treatment.
A crown is best thought of as a cap that looks like a real tooth. It's placed over the damaged tooth, covering it completely to give it greater strength and stability. The procedure starts with having any decay or other compromised areas carefully cleaned.
Then, we take an impression of the tooth that is sent to our laboratory. Your crown is custom-created there with safe, durable materials that will be a perfect match to the colour of your other teeth. Your crown is then fitted at a follow-up appointment.
Bridges for a Permanent Replacement Solution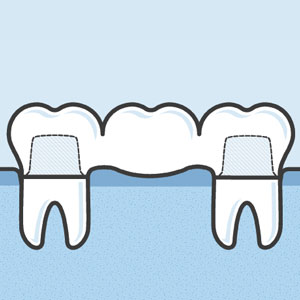 If you're missing one tooth or several teeth, you probably don't feel the freedom you used to in chewing or speaking with others. A dental bridge is a cost-effective solution that is fixed in place rather than being a removable device. It works by having a row of crowns, with the ones on the end affixed to the neighbouring teeth on either side of the gap. Another crown is then suspended into the existing gap.
Similar to the procedure for crowns, your appointment involves taking impressions of the area that are sent to our laboratory. Your bridge is custom-created there from the appropriate materials, then sent back to our practice to be fitted to you.
Book Your Initial Consultation
If you want to restore your smile's aesthetics and function, don't wait any longer. Contact our team today to learn more about crowns and bridges Lavington and our many other treatment options! Health funds are accepted, and payment plans are available.
Any surgical or invasive procedure carries risks. Before proceeding, you should seek a second opinion from an appropriately qualified health practitioner.

Dental Crowns & Bridges Lavington, Albury, Jindera, Thurgoona NSW | (02) 6025 2222