Gum Treatments at K&R Dental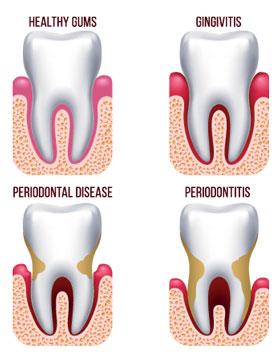 Enjoying a beautiful smile all starts with preventative care. Your oral hygiene habits at home are essential, along with having regular dental checkups at K&R Dental. It's always better to stop a problem before it can become more serious than let it go and have to receive more extensive, costly treatment in the future.
One of the many ways we can preserve your oral health is with gum treatments. If you've noticed any of the following symptoms, you may be a candidate for gum treatments:
Bleeding gums when brushing
Redness in the gums
Bleeding gums when flossing
Sensitivity in the gums
Swelling of the gums
What to Expect
This procedure involves a deep cleaning in and around the gumlines that surround each tooth. Though our regular cleanings are adequate for those with good oral health, if you have gingivitis or gum disease, you require a deeper form of cleaning. You may also need more frequent visits. While in most cases, having a checkup every six months is appropriate, you will likely have to visit us for cleanings a bit more often.
A Dedicated Dental Hygienist
Our staff includes a dental hygienist, Keri Calvert, who is available to provide gum treatments for those who need them. She has undergone specialised training to perform therapies such as gum therapy that allows you to manage or treat gum-related problems like tooth decay or gum disease.
Why Gum Health Matters
When most people think about their oral health, they think about the way that their teeth look. Naturally, having a bright smile is desirable. It's also important to consider, however, what holds your teeth in place – your gums. If the health of your gums is compromised, you can risk losing teeth.
Gingivitis is the first sign of gum disease. It can be managed, however, with the proper care and regular appointments. Once you have gum disease, or periodontal disease, it cannot be reversed. That's why it's vital that you seek help immediately if you suspect that you have a problem with your gums.
Want to Learn More?
Contact K&R Dental today to book your first appointment for gum treatments Lavington! We also accept health funds.
Any surgical or invasive procedure carries risks. Before proceeding, you should seek a second opinion from an appropriately qualified health practitioner.

Gum Treatment Lavington, Albury, Jindera, Thurgoona NSW | (02) 6025 2222