Dental Implant Restoration at K&R Dental
If you have one missing tooth or multiple missing teeth, it isn't just your ability to chew or eat the foods you want that is affected. Your self-confidence has likely taken a hit, and the bone structure of your face isn't the same as it used to be. With a dental implant, you can restore the full function of your teeth.
Why Replace Missing Teeth?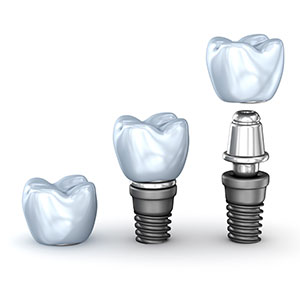 When a tooth is missing, the bone under the gums begins to shrink. It can lead to other teeth collapsing into the gap and be lost as well, which will further erode your facial profile and ability to eat and speak. It's essential to replace teeth straightaway once they've gone missing, preserving the alignment and health of your bite.
A dental implant is a titanium implant placed into the jawbone, upon which another restoration or device can be set. It not only gives you back your full abilities but halts bone loss, protecting the rest of your teeth.
Dental Implants With Crowns, Bridges or Dentures
Depending on your situation, your dental implant can have a crown, bridge or denture affixed to it. If you're missing a single tooth, a crown can be placed on the implant. Those missing multiple teeth may choose a dental bridge or have a denture attached to the dental implant.
If you're unsure as to which is right for you, your dental implant specialist will be able to go over all your options to decide the best way to proceed. Once you've received your dental implant and the area has healed, the team at K&R Dental can place the chosen restoration for you.
Why Choose Dental Implants?
With other tooth replacement solutions available, you may wonder what the advantages of dental implants are. The many reasons to choose this treatment include
A success rate of 98%
Created from biocompatible materials
Easy to maintain and care for
No damage to surrounding teeth
The longest-lasting of all dental restorations
Want to Learn More?
Contact us today to discuss whether dental implant restoration Lavington is right for you! We have HICAPS so that you can claim your rebate on the spot and offer payment plans.
Any surgical or invasive procedure carries risks. Before proceeding, you should seek a second opinion from an appropriately qualified health practitioner.

Dental Implants Lavington, Albury, Jindera, Thurgoona NSW | (02) 6025 2222