Regular Dental Scale and Cleans
at K&R Dental
Prevention is always better than cure. At K&R Dental, we encourage regular dental checkups every six months. With periodic visits, any potential dental issues you may have can be identified and addressed early, preventing more complex and costlier treatment from being necessary in the future. Those with a history of gum disease may benefit from more frequent checkups.
What to Expect at Your Visit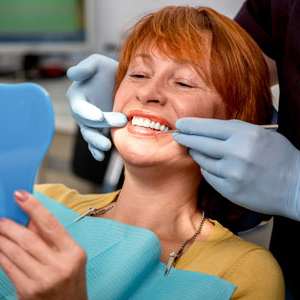 At each visit, our professional dental team will provide a comprehensive service that includes:
An evaluation of your teeth, gums and jaw
The gentle removal of plaque and tartar that builds up on teeth and gums
A polish of the teeth
A fluoride rinse to protect the teeth from decay
When appropriate, we'll also advise you on home care or products that we think may benefit you. All of your questions will be answered so that you leave our practice feeling confident about taking control of your oral health.
Choose Professional Dental Care
You might think that brushing and flossing is enough to keep your teeth healthy. When tartar builds up, however, it can't be removed with your regular oral hygiene habits. It can harden and will only be removable by a dental professional. Even people who are careful to follow a strict regimen of brushing and flossing experience buildup. If left untreated, you may experience symptoms of gingivitis, which in turn can lead to teeth and bone loss.
With preventative care, you can show off your natural, beautiful teeth for a lifetime. Research even shows that there is a link between gum disease and other health conditions like stroke and heart disease, making it important to maintain your oral health.
Tips for a Healthier Smile
Showing off a bright smile begins at home. Your oral hygiene regimen should involve brushing twice a day for two minutes each time. You should only use a soft-bristled toothbrush. Flossing should be done once per day, cleaning gently between the teeth and below the gumline.
Contact our team today to book your time! Health funds are accepted, and rebates can be claimed on the spot with HICAPS.

Dental Check Ups Lavington, Albury, Jindera, Thurgoona NSW | (02) 6025 2222