Tooth Extractions at K&R Dental
At K&R Dental, our professional team prioritises conservative dental care that preserves your natural teeth whenever possible. In some cases, however, an extraction may be the sole solution that's appropriate for your situation. We're experienced in performing extractions gently, ensuring that you have a comfortable experience that alleviates any pain or discomfort you may be in.
When an Extraction Is Required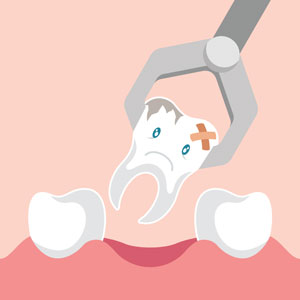 A tooth may need to be removed for a number of different reasons, such as:
Breakage
Infection
Malformed, supplementary or supernumerary teeth
Severe decay
To prepare for orthodontic treatment or a prosthetic such as a denture
Your oral health will be fully evaluated to make sure that extraction is the most appropriate solution for your situation. If there may be other treatment options available, we'll discuss them with you so that you can decide how you'd like to proceed. Though you'll receive our best recommendations, your dental care is always your decision.
What to Expect for an Extraction
Before getting started, local anaesthetic will be administered by our qualified team to numb the entire area around the affected tooth. We'll make sure that you are ready before we proceed. Dental instruments will be used to remove the tooth.
Afterwards, if stitches are necessary, we can place them to speed your healing process. Finally, you'll be given all necessary home care instructions so that you will recover quickly and know what to expect or what your limitations may be after the extraction.
Alleviate Your Pain
Discomfort may be the first sign of severe decay or infection. For that reason, we recommend you ring us straightaway if you suspect that a problem is present. If you're concerned that you may require an extraction Lavington, contact our team today! We'll perform a comfortable procedure to restore your oral health. Same-day appointments are available.
Any surgical or invasive procedure carries risks. Before proceeding, you should seek a second opinion from an appropriately qualified health practitioner.

Tooth Extraction Lavington, Albury, Jindera, Thurgoona NSW | (02) 6025 2222