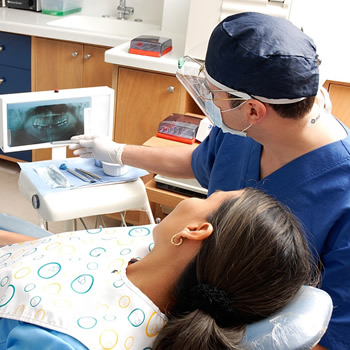 Just as you likely take your car in to get serviced at regular intervals to avoid costly repairs, it's essential to maintain your smile regularly. At K&R Dental, we take a preventative approach by encouraging patients to visit us every six months for a checkup.
With preventative care, you can achieve and maintain a natural, beautiful smile for a lifetime. You also could enjoy better overall health. That's because research reveals a link between gum disease and other health conditions. These include stroke and heart disease. So keeping your teeth and gums healthy is vital.
What to Expect at Your Appointment
At each checkup, our professional dental team will provide the following:
An assessment of your teeth, gums and jaw
A teeth polishing
A fluoride rinse to protect the teeth from decay
When appropriate, we'll also advise you on home care or products that we think may benefit you. We will answer all of your questions so you'll leave our practice feeling empowered to take control of your oral health.
Isn't Home Hygiene Enough?
While brushing at least twice a day and flossing once daily are crucial, you might think these habits are all you need to keep your teeth healthy. However, when tartar accumulates, it can't be removed with home oral hygiene habits. Tartar only can be completely removed by a dental professional. Even those who carefully follow a strict regimen of brushing and flossing get buildup. If left untreated, you may experience symptoms of gingivitis, which in turn can lead to teeth and bone loss.
Avert Dental Disasters Down the Road
With twice-yearly visits, any potential dental issues you may have can be identified and treated early. As a result, you can prevent potentially more complex and expensive treatment from being necessary in the future. If you have a history of gum disease, you may benefit from more frequent checkups.
Take Advantage of Our New Patient Special
To help keep your teeth in great condition, we invite you to take advantage of this fantastic new patient special: dental checkup only $95*! The offer includes a comprehensive checkup, X-rays, photos and treatment plan.
Contact us now to book an appointment with Dr Naseem!
CONTACT US